Custom Real Estate Letterhead



GIVES YOUR CORRESPONDENCE A PROFESSIONAL LOOK

High-Quality, Full Color Printing

Compatible With Laser and Ink-Jet Printers


Customize Your Design


Instant Online Proofs FREE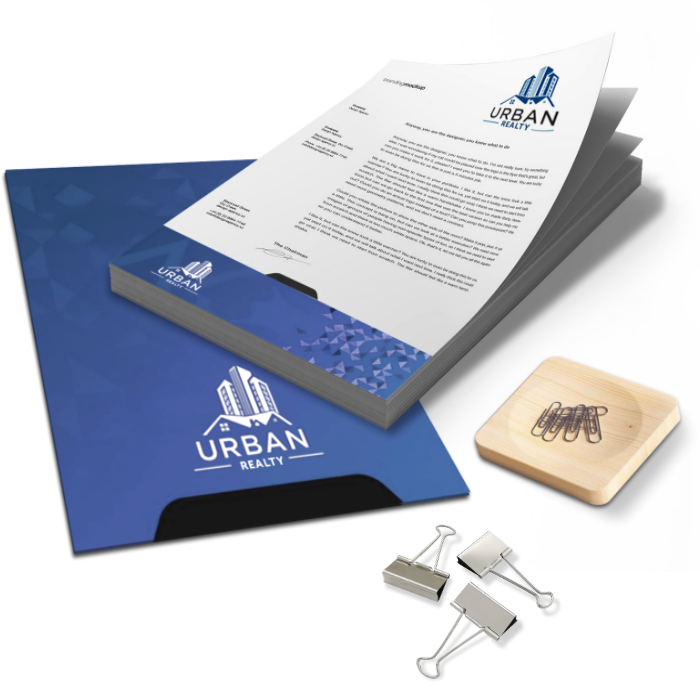 Branded Real Estate Letterhead Highlights Your Company and Leaves a Great Impression

Choose custom real estate letterhead to showcase your company colors and logo. It is an inexpensive way to display your brand's identity on all of your correspondence. Whether you are writing clients or colleagues, a personalized and branded letterhead gives you and your company a look of elegance and professionalism. We offer a variety of real estate letterhead templates on our website for you to choose from. With a new letterhead from Realty Cards, it's never been easier to create a design that represents your brand identity.
Create Your Real Estate Letterhead
Get started today by choosing one of our many real estate letterhead templates or if you like, upload your own. It's easy to customize your new letterhead using our state-of-the-art online design tool. Just select the perfect letterhead template from your company gallery, add your information and even a photo if you like. Once you've created a realty letterhead design you love, we'll quickly print and ship your items directly to your doorstep. With Realty Cards' quality printing, your real estate stationery will arrive looking professional and ready to use.
How would you like to design your Real Estate Letterhead?
Find the Perfect Real Estate Letterhead Template



Take a look at some of our custom real estate letterhead stationery templates that we offer. Select a design for your company that is perfect for your listing. After you have selected the perfect design, just simply add your contact information and your head-shot if you like. Once you have placed your order, we'll review your design file to make sure it prints correctly. We will then print, package and quickly ship your new letterhead directly to you.
Print Custom Real Estate Letterhead for an Unrivaled Presentation

Every piece of communication sent to your clients, is a depiction of yourself, your company and your brand. It shows who you are as an agent, and the quality you represent. Professional designed real estate letterhead continues to be a critical marketing tool for all realty businesses. So, if your office uses letterhead for important documents or mail pieces, you should try professionally printed custom letterhead.
Custom real estate letterhead always stands out and makes your office stationery look professional and polished.  If you wish, you can opt for color on both sides of your new realty letterhead, incorporating your branding into the design. We will print your custom branded letterhead on opaque bright white text paper that is sure to make every letter you send seem special. This 70 lb. paper is twice the weight of normal copier paper, and at the standard 8.5" x 11" letter size, and is compatible with most laser or inkjet printers.
70 lb. Opaque Smooth White Paper

This bright white uncoated and smooth paper is a popular option that looks great, and is compatible with most laser and ink-jet printers.
100,000+ real estate professionals trust us with their printing
Realtor branding and promotional experts for all your online printing needs
Realty Cards has everything to elevate your
STYLE!IMAGE!BRAND!
The Industry's Most Creative Real Estate Agent Marketing Materials