Post Date:
November 2, 2021
---
6 Unique Business Card Designs For RE/MAX Agents
Tim
What's makes RE/MAX Agent Business Card Designs? For agents, there is no such thing as an ordinary business card. That's why we've rounded up 6 of the most creative and memorable designs for you to get inspired by.
Are you looking for unique RE/MAX Agent Business Card Designs? Agents, brokers and realtors can now design their own business card with Realty Cards. You can upload your company logo or personal photo to create the perfect one-of-a-kind card for your business. RE/MAX agents have a strong reputation in the real estate industry. The RE/MAX brand is trusted and respected, making it one of the top brands in the business. The card designs are customizable and can be personalized for each agent. This is a great way to make the business cards more personal and memorable for potential clients.
To help you stand out from your competition, we've compiled six unique RE/MAX Agent Business Card Designs to use as inspiration for their own cards. Below are a few of the latest RE/MAX business card templates from Realty-Cards.com Take a moment to browse our RE/MAX Business Card Gallery and choose a design to suit your individual style. We have many different designs and styles to choose from, from simple clean designs all the way to the most detailed graphical layouts.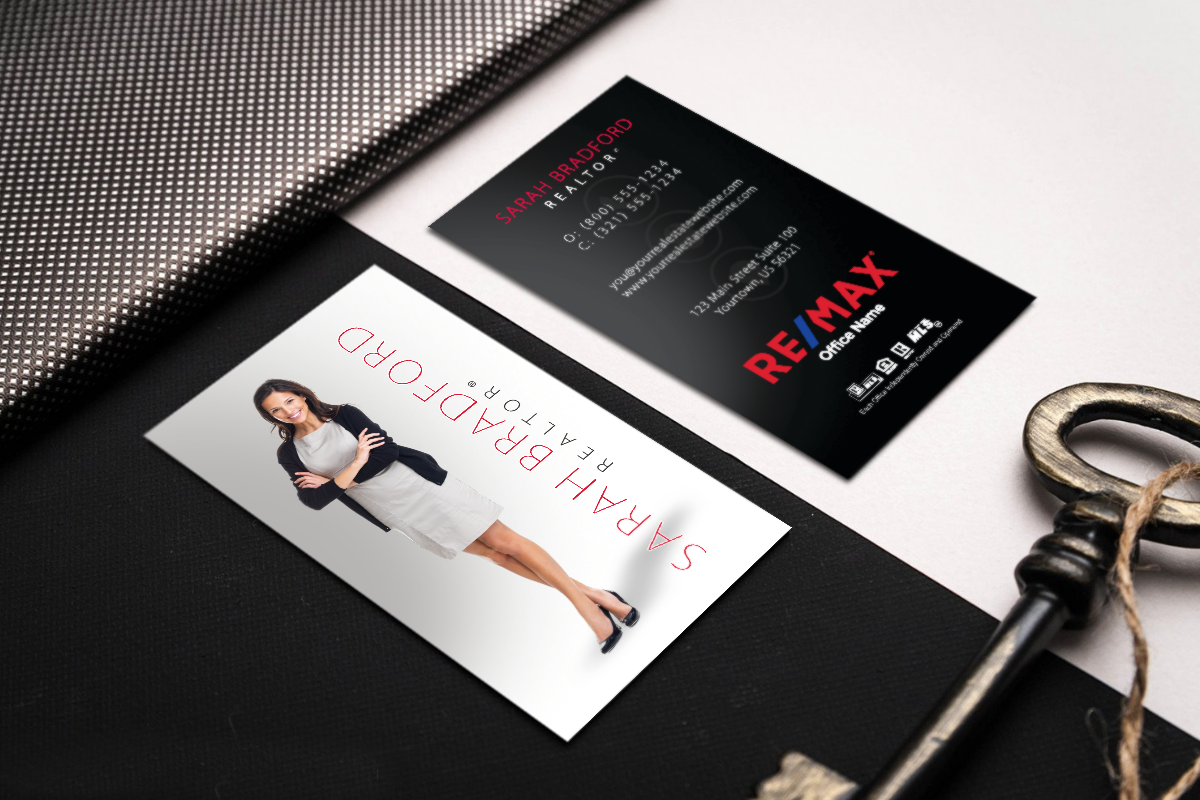 1. Vertical RE/MAX business card designs are perfect for full length photos

The RE/MAX vertical business card is an excellent way to promote the agency you represent. Horizontal is nice but it's time for something fresh!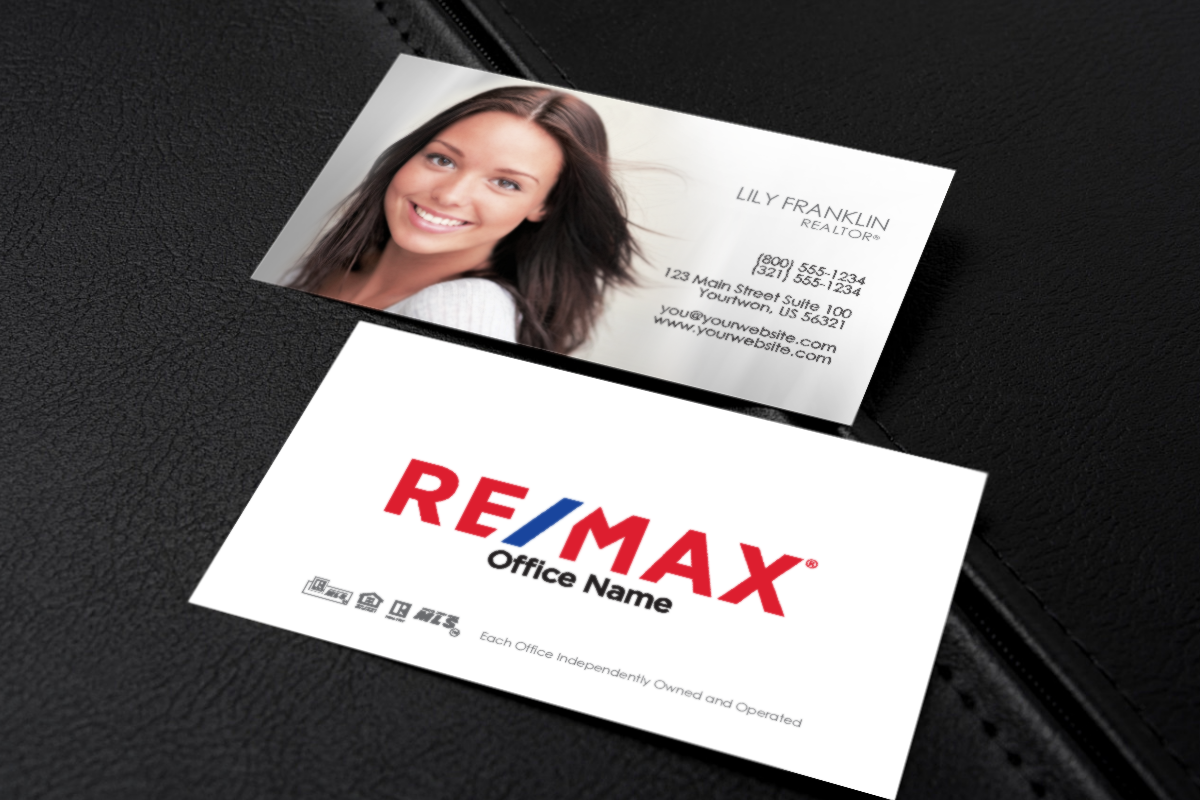 2. Clean white minimal RE/MAX business card is always in style

For most RE/MAX agents, there is no such thing as an ordinary business card and the classic logo always stands out against a clean, white background.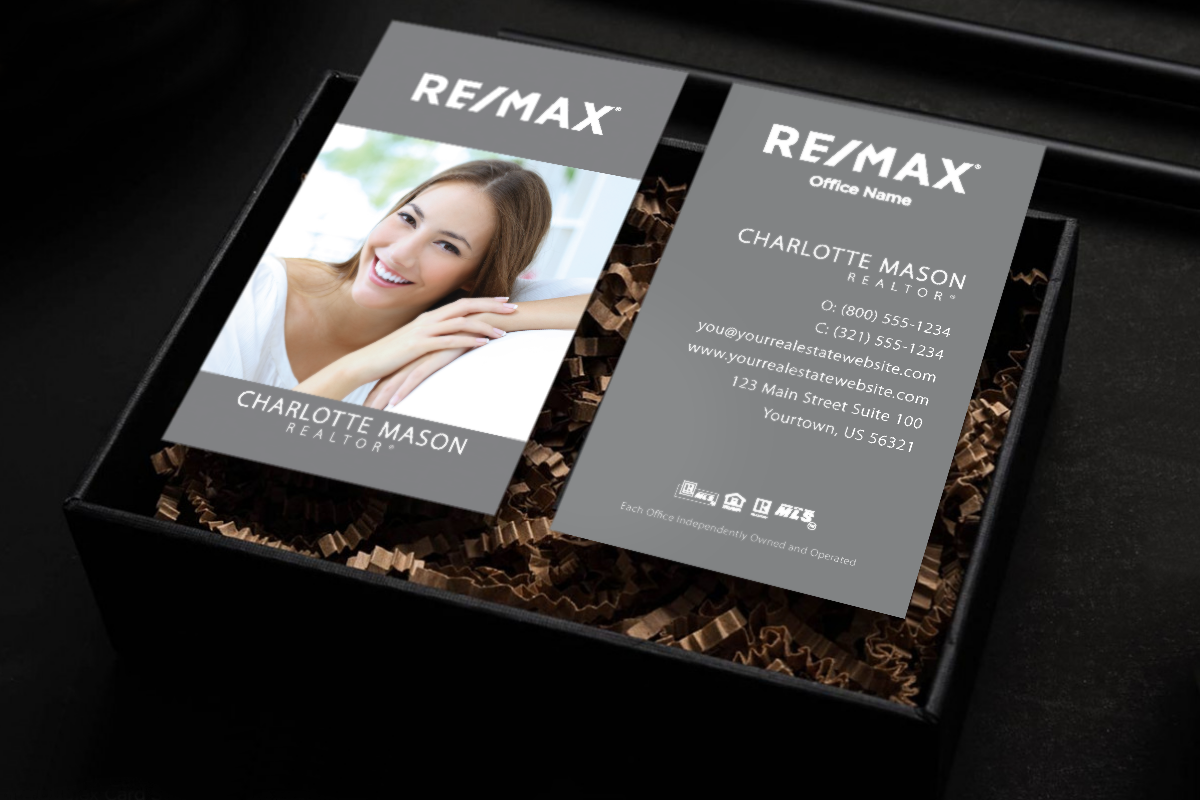 3. Simple, professional, agent-focused RE/MAX business cards display understated elegance

Classy yet understated, this simple yet professional real estate business card design features a clean gray background with clear, easy to read contact details.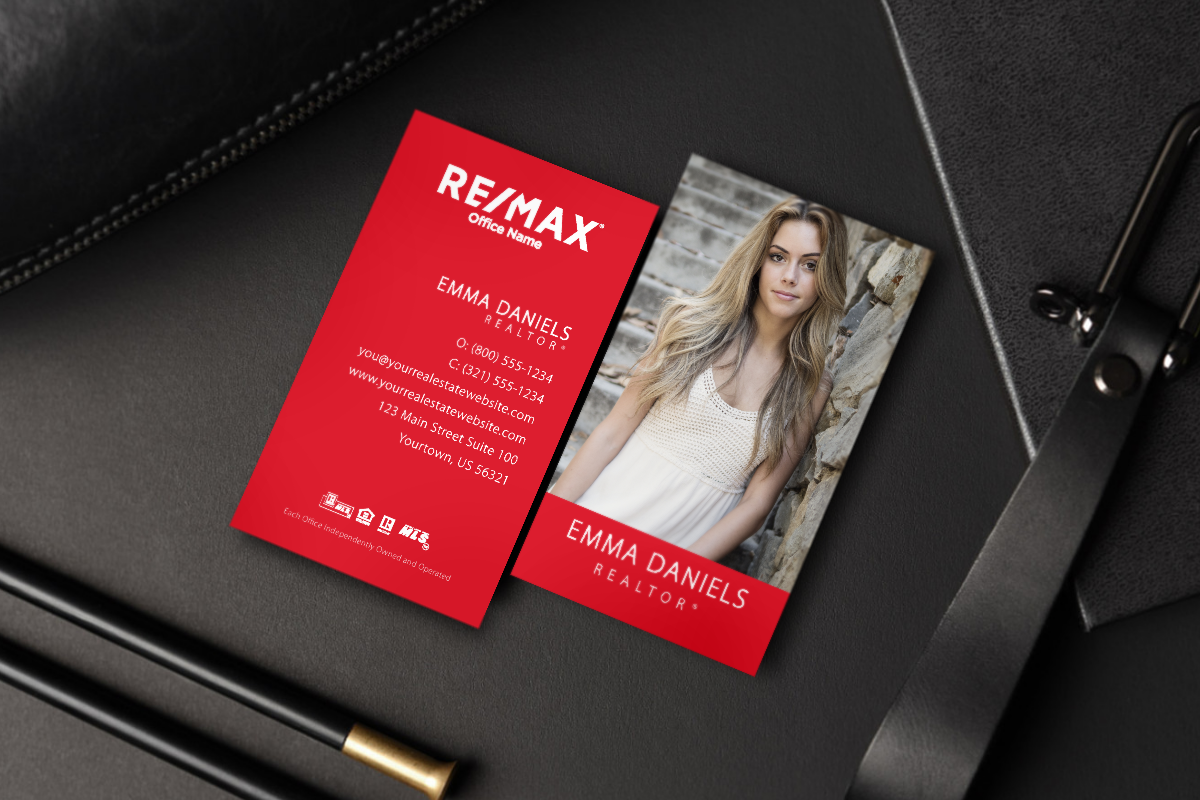 4. This red RE/MAX business card is bold in color and a study in simplicity

This design utilizes the famous RE/MAX Primary Red color just two color with great effectiveness to create a memorable business card.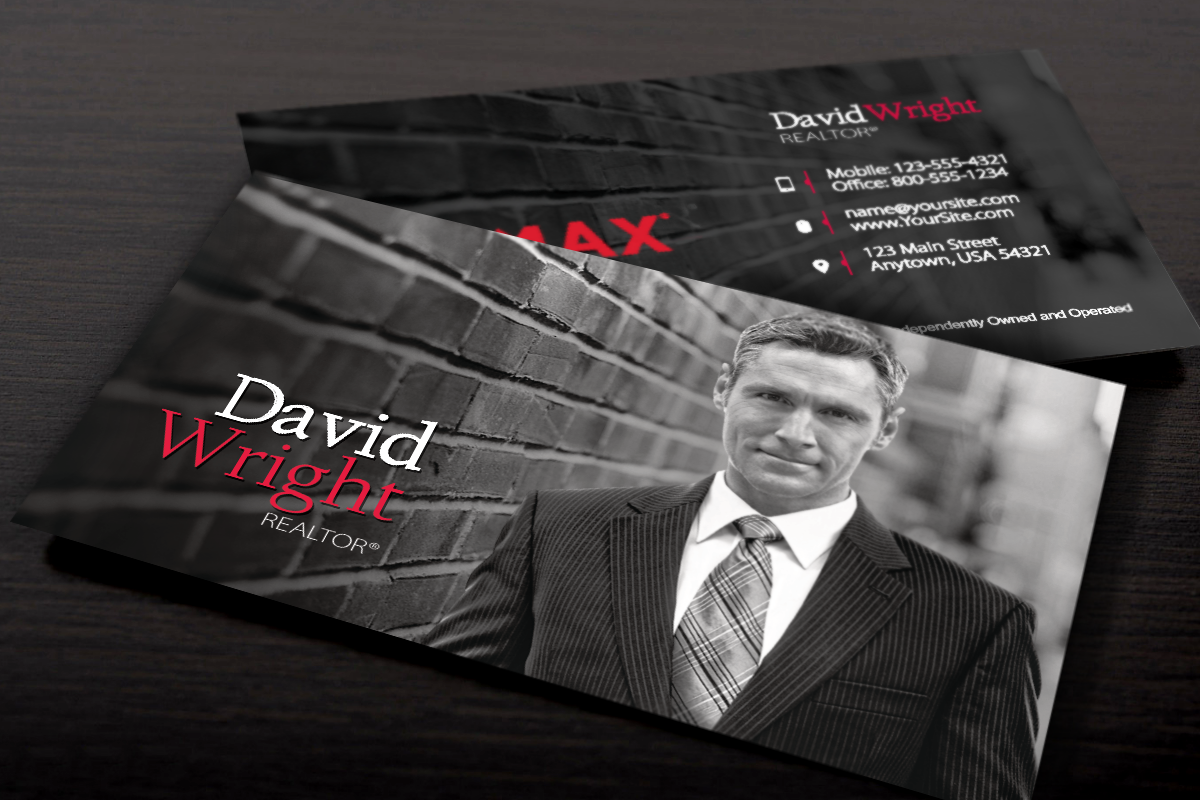 5. One of the most popular RE/MAX business card designs featuring stunning B&W photography

It's important to have a high-quality design, and this card will reflect your style and personality leaving a good impression on potential clients.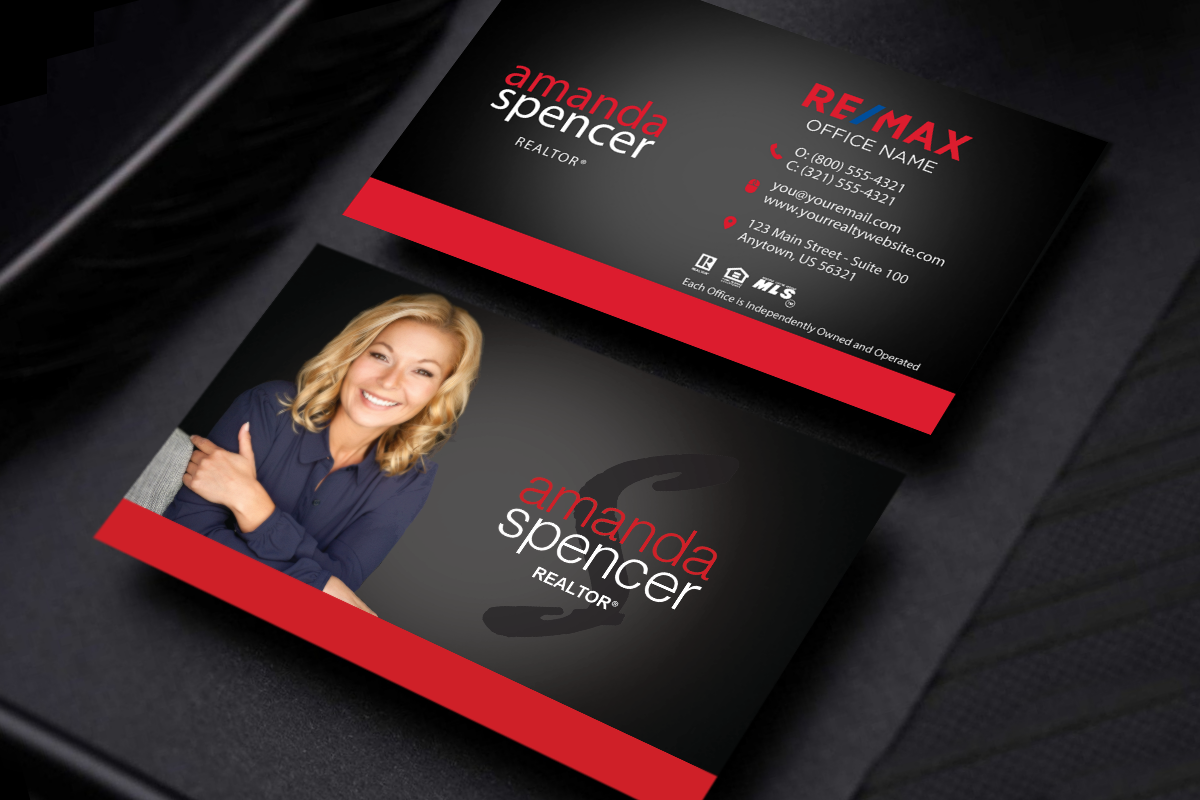 6. Captivating RE/MAX business card with agent photo and custom monogram design

This RE/MAX design with an integrated custom monogram helps to focus, and elevate an agent's marketing and branding identity.