Post Date:
December 20, 2021
---
11 Business Card Design Ideas for Realtors That Are Sure To Impress
Tim
Are you a real estate agent, broker, or realtor with an eye for design? Do you find yourself frustrated when your business card doesn't match the way that you present yourself? Tired of seeing other agents and brokers at networking events handing out their boring cards to potential clients? We have put together 11 Business Card Design Ideas for Realtors to use as inspiration.
Real estate business cards make it easy to spread the word about your company and establish yourself as a real estate agent. You can customize them in many ways, including adding images of homes that you sell or choose colors from one of our palettes. Whether you're an established real estate agent or new to the industry, there are plenty of creative techniques for making business cards unique so they stand out among all those other black-and-white rectangles with contact information on them! Customize yours by using photos displaying properties that have sold under your management team's tutelage – this is also known as establishing clientele loyalty after delivering such outstanding service!
Here are 11 Business Card Design Ideas that we've seen Realtors make their business card stand out: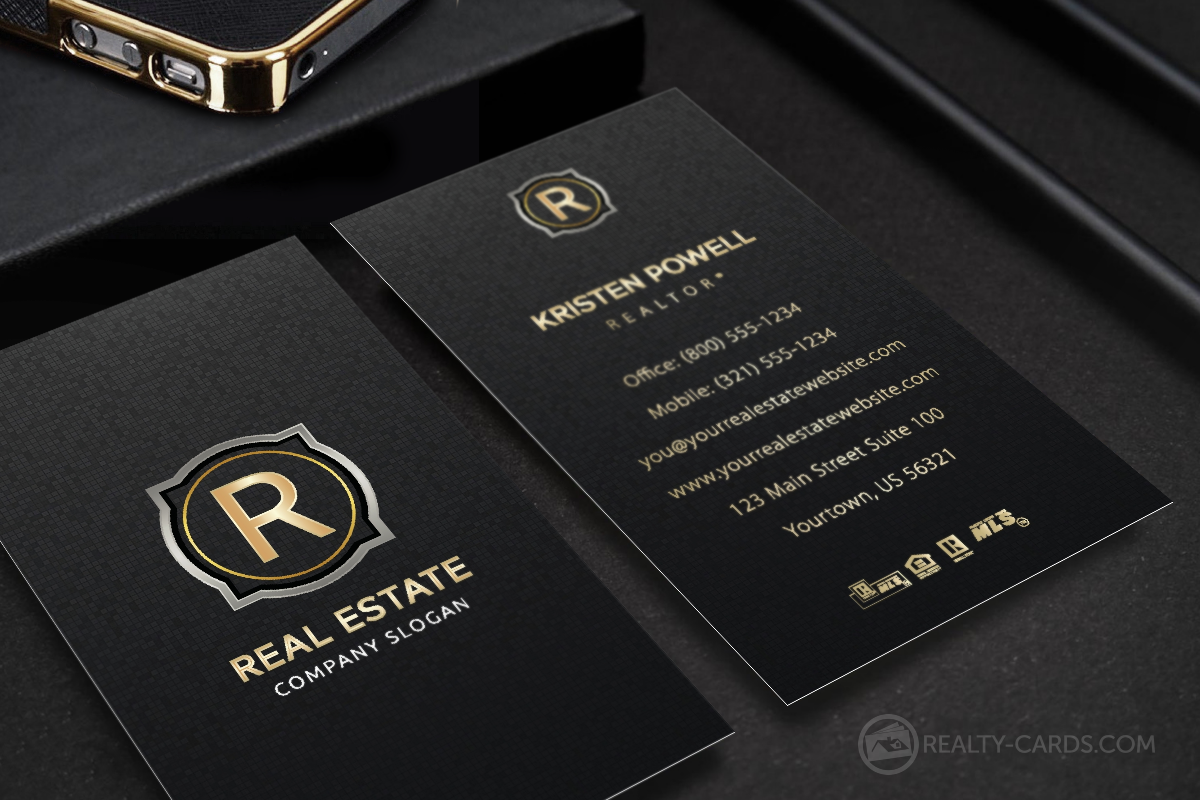 1. Vertical design with gold and silver stamped foil

Are you in the business of real estate? Are you looking for a way to stand out and make an impact with your clientele? Take a look at all of the business card ideas for Realtors listed below. Gold foil business cards are the answer. Our innovative gold foil process instantly grabs attention and makes it much more likely that your contact information will be retained by your clients. Gold foil printing is durable, making it perfect for handing out as business cards or advertising so you can maximize visibility. It also comes with several unique features like raised ink, embossing, mirror-like effects, and opaque backgrounds.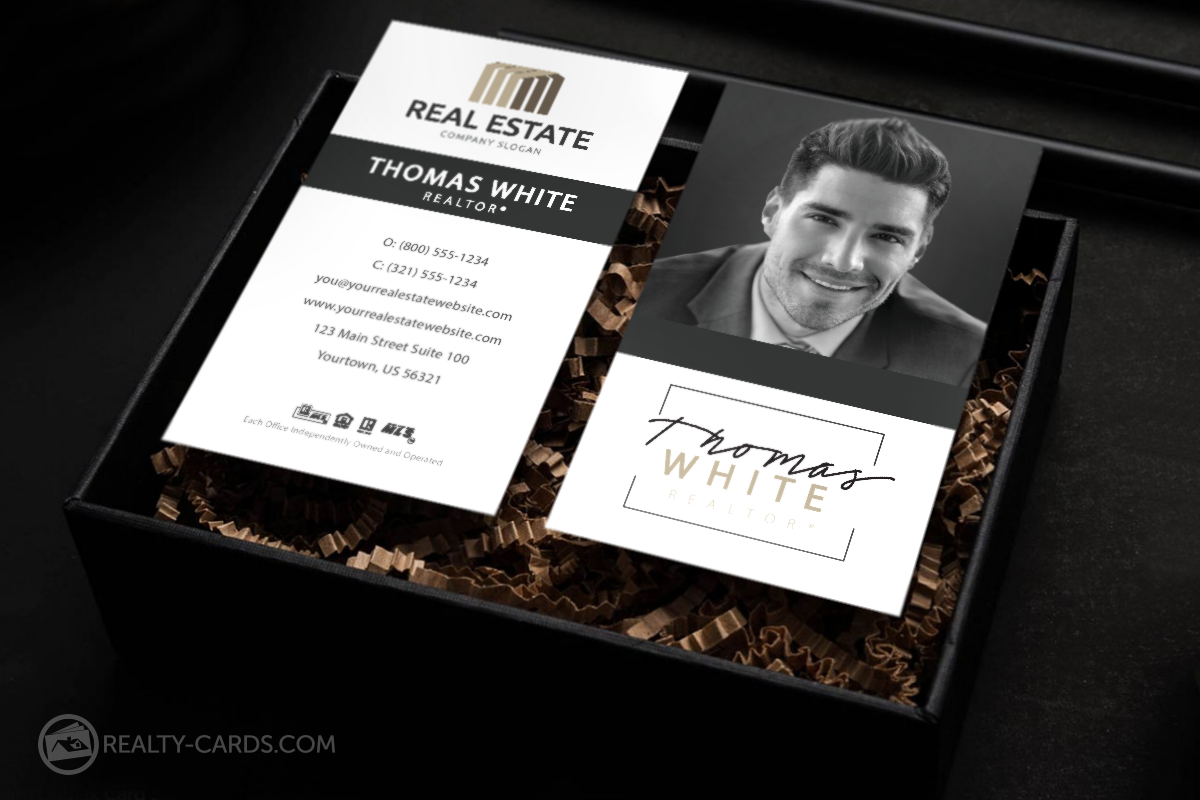 2. Clean & modern real estate business card design

This design offers a clean, professional and modern look a for real estate business card. The designs are made up of two colors that will suit any type of realtor or broker's needs. With just a few clicks you can get your own design with the tools on their website. The focus is to provide an easy-to-use platform where they can create their own card in minutes without having to go through the hassle of designing it themselves from scratch. Realty Cards' team has been working tirelessly to offer the best service possible to people who want something better than what they have now but don't know how to do it themselves.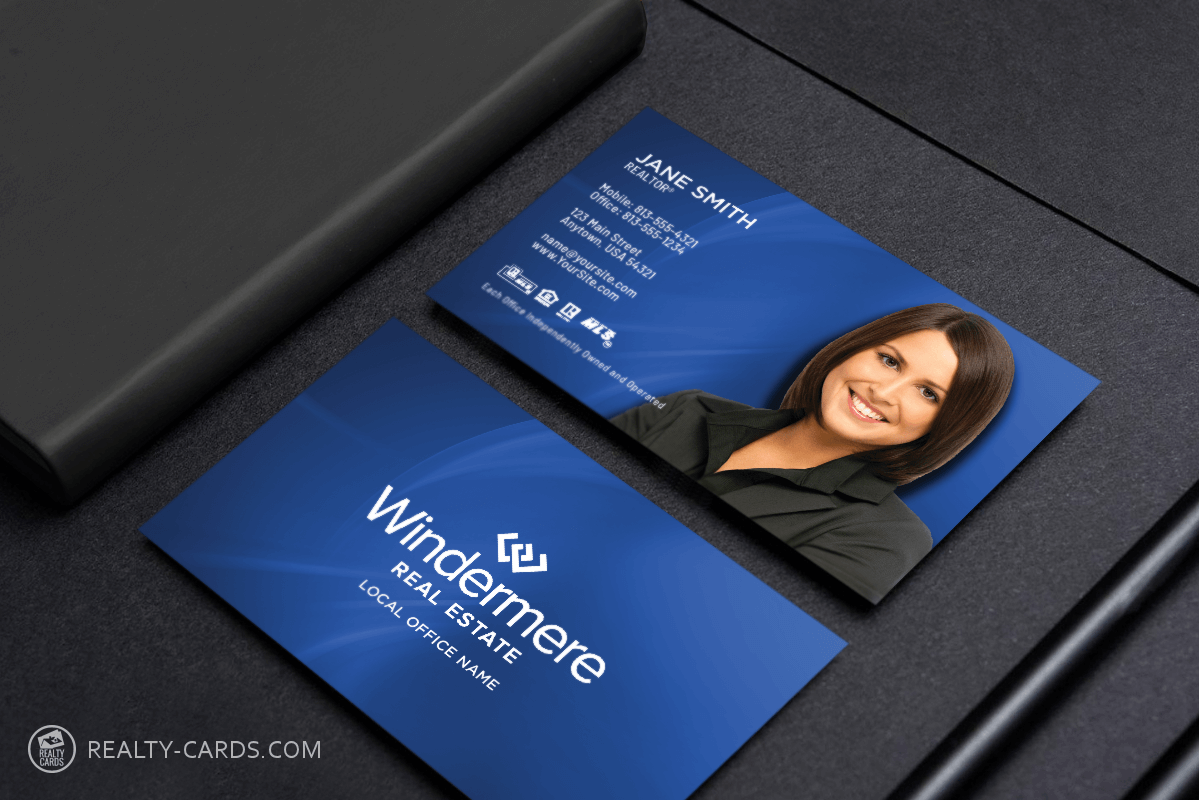 3. Simple blue real estate card design

This blue card not only fits your professional needs but also has a modern look with its clean lines. You can choose the text layout of the card, as well as add your logo or information to it. The cards are printed on both sides for maximum exposure and come in packs from 100-10,000 at an affordable price.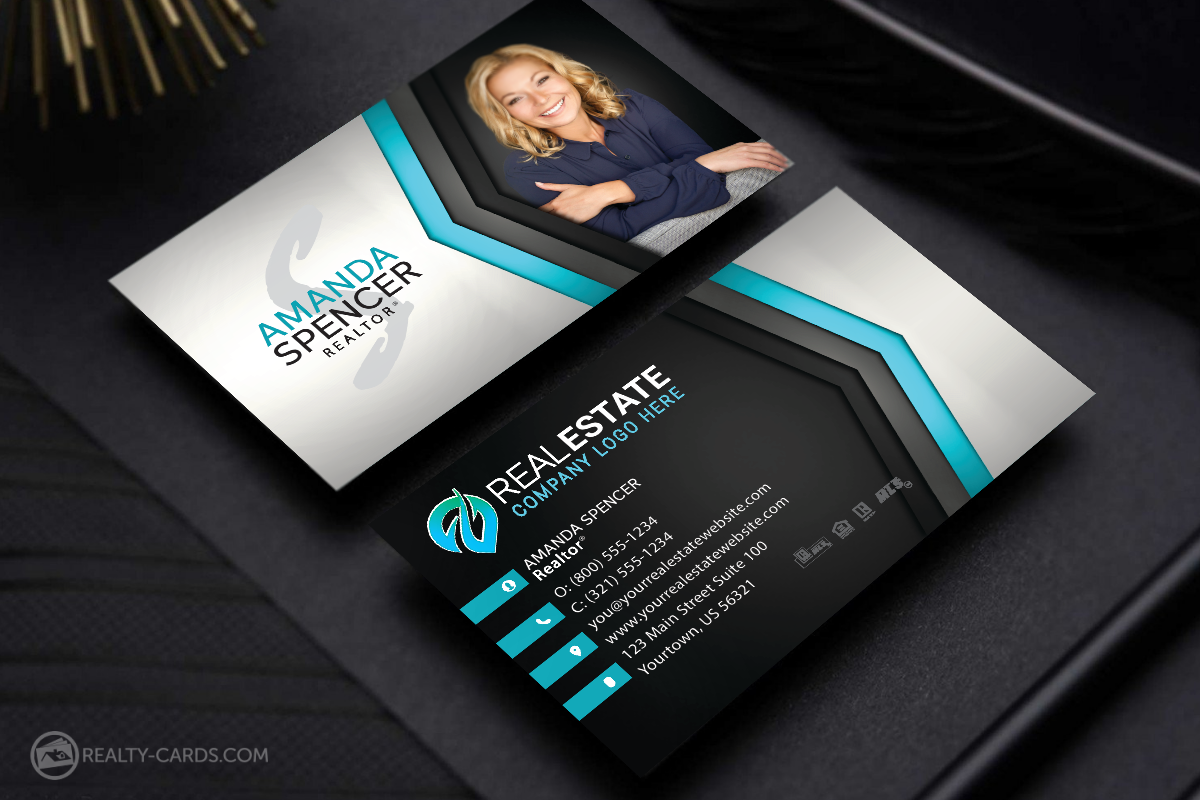 4. Eye-catching monogram design highlights agent name

A business card is an essential marketing tool for any professional. A well designed card can help you stand out from the crowd and make a lasting impression with potential clients. One of the most effective methods to create a memorable business card design is by incorporating your name in some way. This could be done through various different ways, such as using initials or including your full name in a creative font, color, or shape.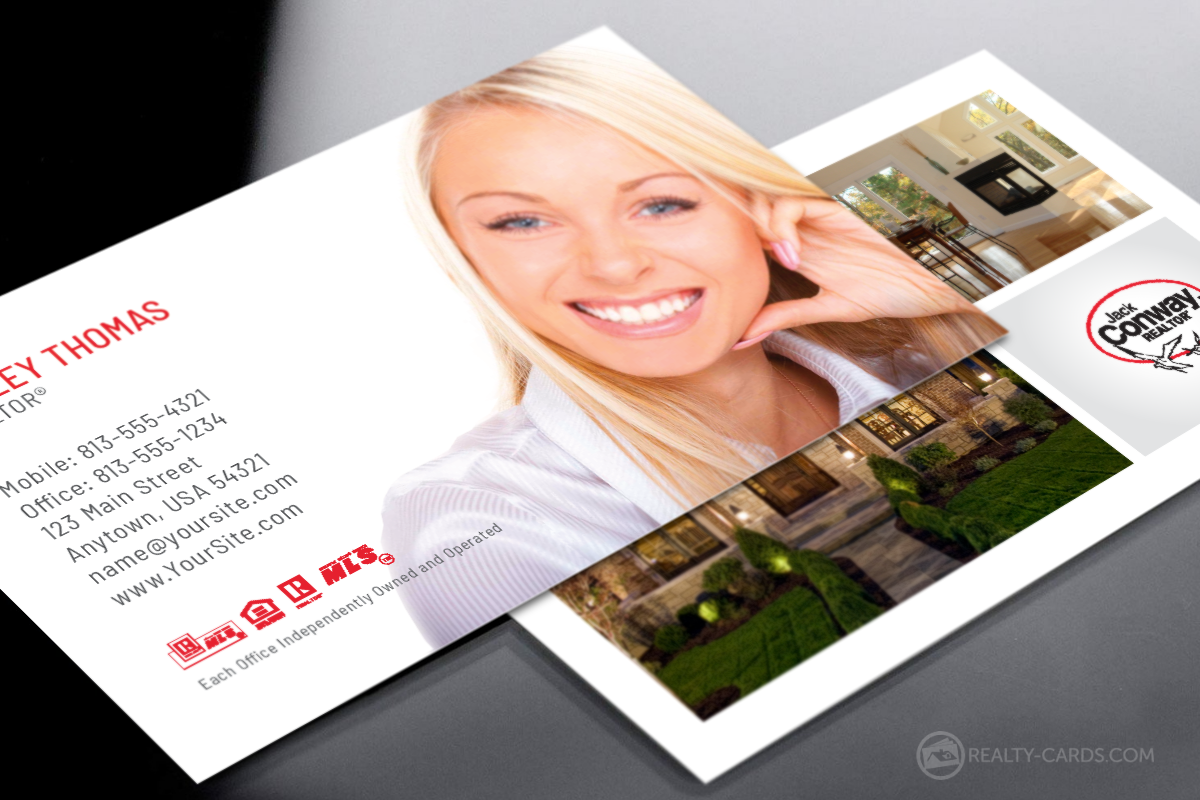 5. Bright design with professional looking agent photo

We all know that a real estate agent's business card is one of the most important marketing items you can have. It not only showcases your contact information, but also provides an opportunity to market yourself and your personality. Here is an example of how to design bright and bold business cards featuring agent photos, so we thought it would be a great idea to share some tips on designing your own!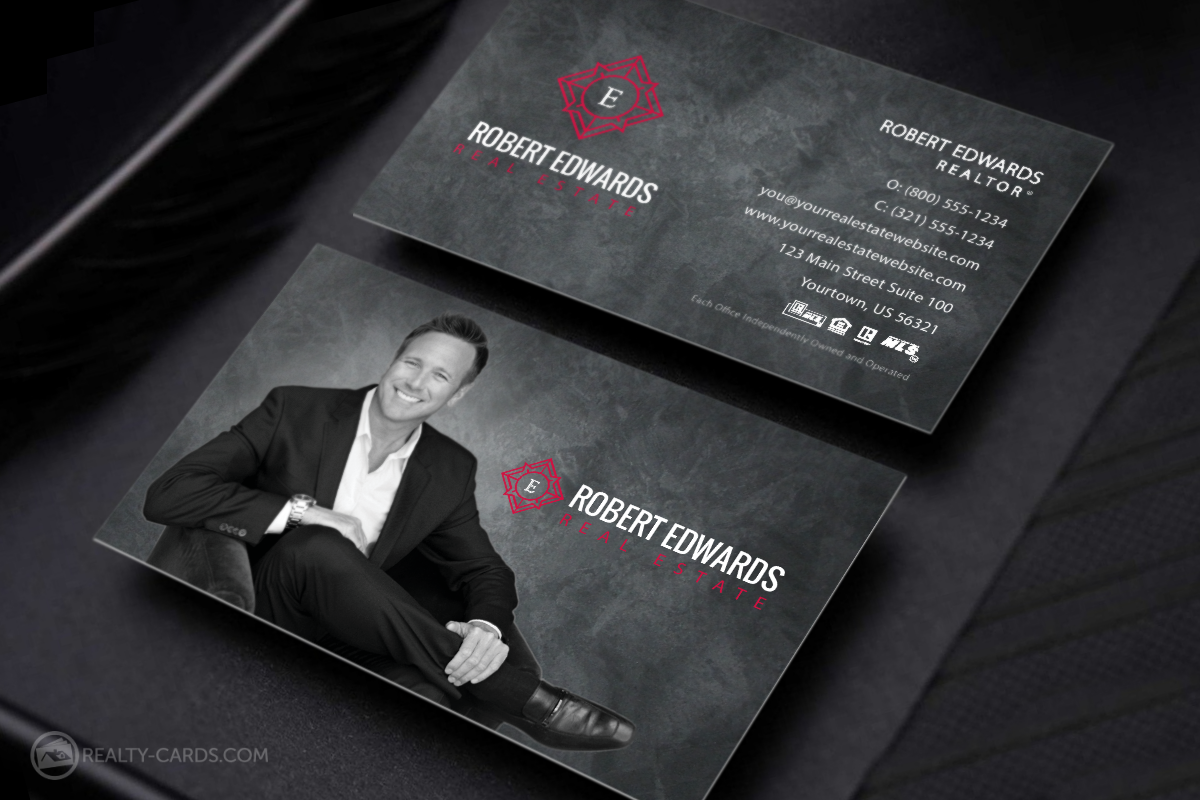 6. Grayscale business card design featuring contrasting color logo

This elegant business card design needs with a grayscale background and professional agent photo, and a simple logo that stands out in a contrasting color that makes it pop. A grayscale business card design is perfect for an agent who wants to stand out from the rest. The contrasting color logo and sleek look will be sure to catch your eye.
7. Professional design gives equal focus to photo and logo

There are many factors that go into a successful business card design and in today's blog post, we will explore the importance of emphasizing creative and professional branding on your new business cards. A quality business card should start with an eye-catching logo or company name to attract attention from potential clients as well as ensuring brand recognition when they see you at networking events. The photo is also one of the most important aspects of your new business card because it gives people something to remember about you.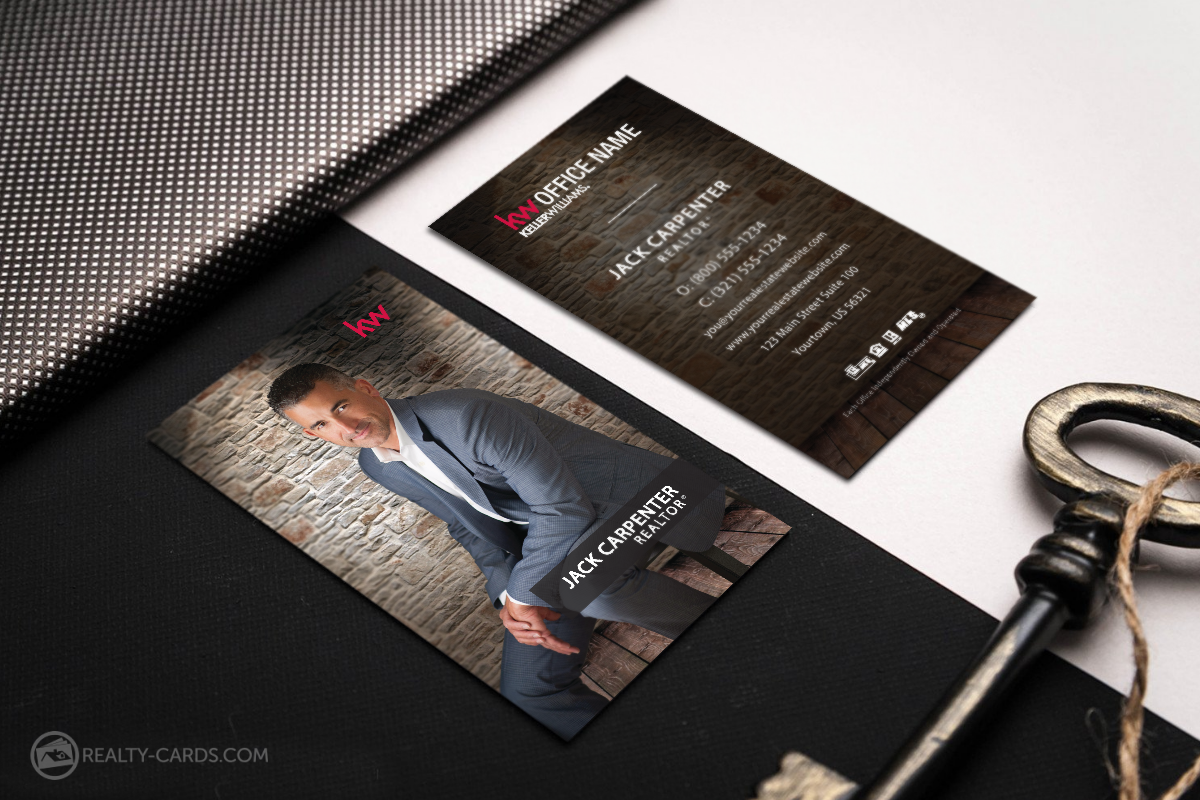 8. A great photo on your business card is a reflection of your brand

One of the most important parts of a real estate agent's business is their professional design and production of a business card. A good, well-designed card can help an individual stand out among their competition. A bad or poorly designed one makes them look unprofessional and unorganized. The best real estate business cards are the ones that stand out, and Realty Cards has you covered. Whether you're a new agent or an established broker, we have all the features to make your card more professional. Our customizable templates allow for easy editing of your company's logo and contact information to ensure that your card stands out from the rest.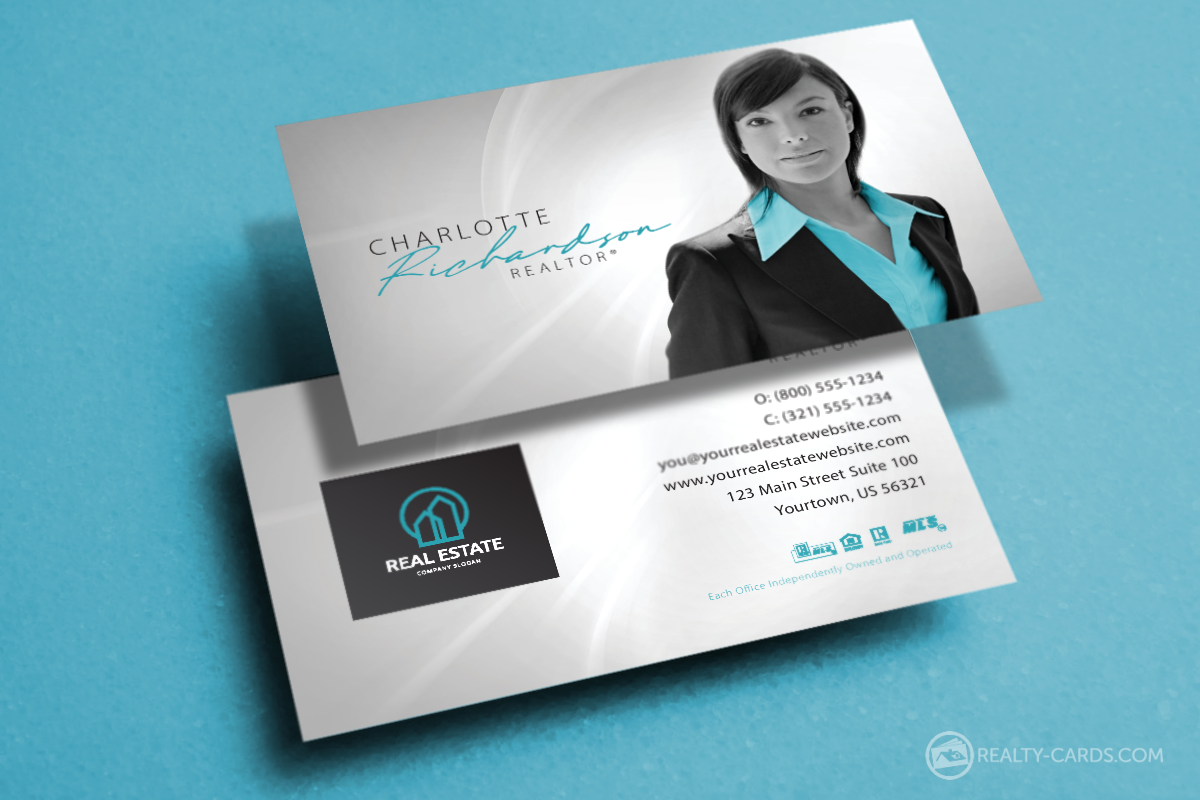 9. Accent color sets this 2-tone design apart

A creative real estate card design can be the difference between a potential client seeing you as an innovative agent focused on their brand identity, or just some boring agent with a boring business card. Ever wonder what the creative color on a real estate business card design could be? What do you think of when you see a real estate business card? A blank, white rectangle with your name and contact information. The truth is there are dozens of creative ways to make an impression on potential clients that come into contact with your business card, from the paper stock and color to the design. This design takes a new take on the real estate business cards by adding in some creativity for agents who want it but don't need all the bells and whistles.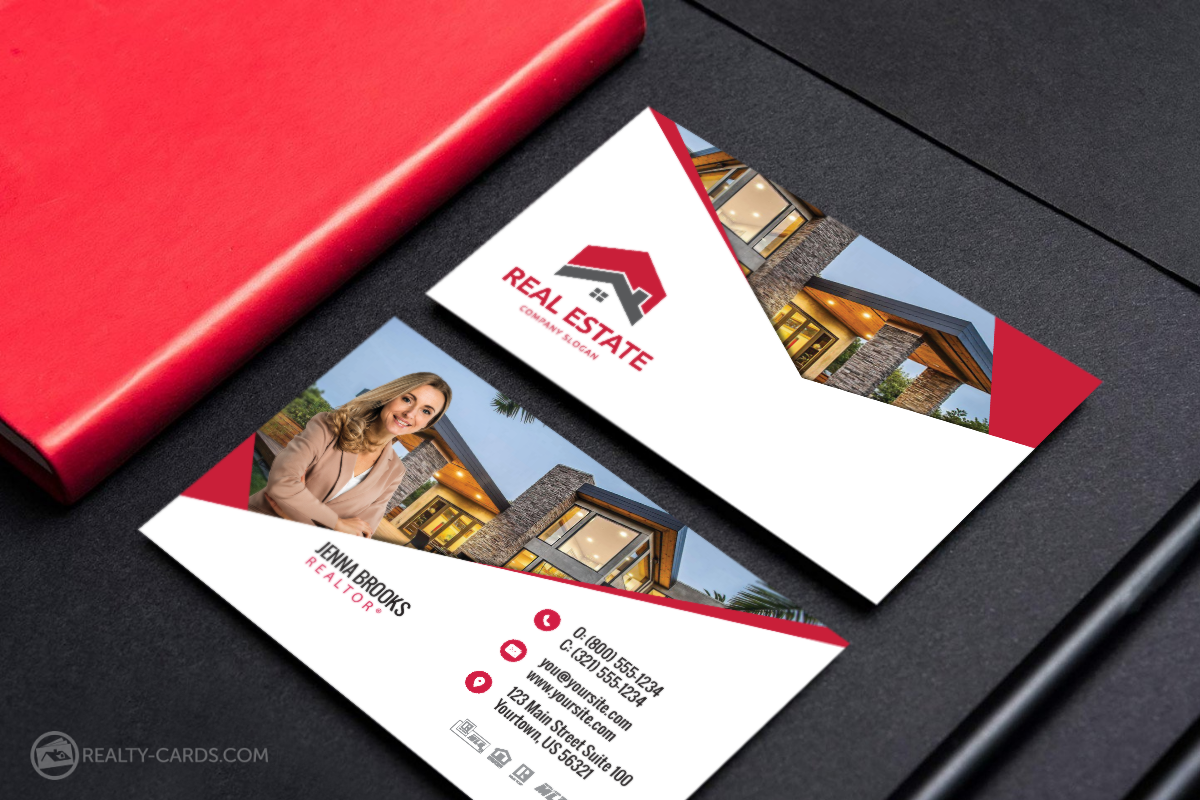 10. Modern take on a traditional design

The modern real estate business card with traditional design elements is a great way to showcase your work in an elegant and professional manner. Agents will be able to convey their contact information, referrals and company affiliations on one side of the card while showcasing their best work on the other side. The real estate business card is one of the most important marketing tools for any agent, broker or realtor. This modern design offers a traditional look with just enough edge to stand out from other cards while still following current trends in corporate identity design.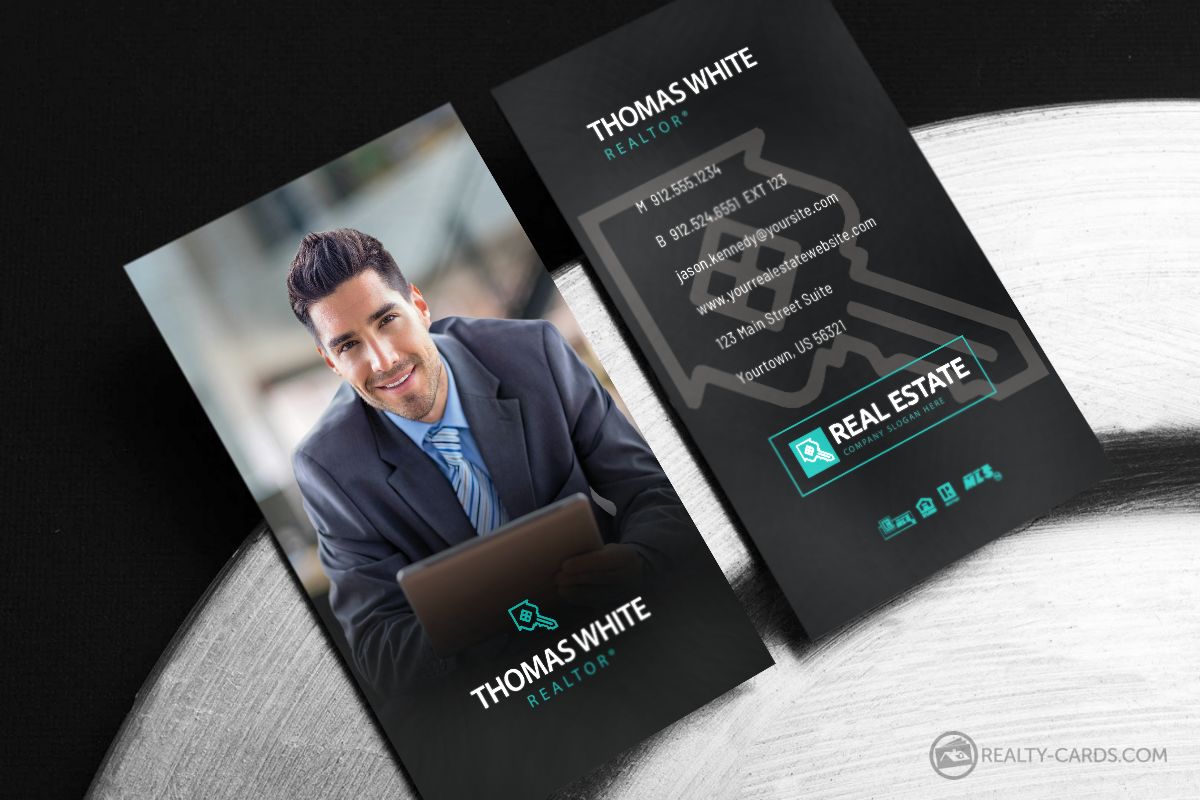 11. Vertical designs are unconventional and a sure way to make you stand out

Vertical business cards are an unconventional way to stand out in a sea of boring, rectangular pieces of cardstock with information. As the world continues its shift toward being more on-demand and digitalized, real estate professionals need all the help they can get when it comes to standing out from their competition. A vertical business card is one such example that will make your company unforgettable by others who receive them hand these professionals take action based off what you've shared or even just remember where they heard about this type of innovation first.
Quality business cards will get you noticed and with so many designs, it's easy to find your style

Real estate agents typically have a lot on their hands. From meetings, prospecting new clients to hosting open houses and more-they need something that they can carry with them at all times in order for the realty business card to be effective. What better way than designing your own custom realtor cards right here? Realty Cards offers a variety of design options for real estate business cards. in addition to these business card ideas for Realtors, you can find 1000's of innovative design examples for most major realty companies to get an idea of what we offer.  We have many wonderful templates and printed products created specifically with you in mind, whether you are looking for something simple or more graphical. Explore all that we have to offer today.
If you need more information call us toll free at 1 (888) 711-4520 or click here to get started.