---
Strike a Pose: 5 Essential Tips for Crafting an Outstanding Realtor Image
Timothy Hall
In the fast-paced world of real estate, crafting an outstanding Realtor image with a striking realtor photo can make all the difference when it comes to attracting clients and standing out from the competition. Your photo is often the first impression potential clients have of you, so it's crucial to make it count. Here are six essential tips to help you capture a great realtor photo that exudes professionalism and charisma.

First and foremost, invest in a professional photographer who specializes in real estate photography. They have the expertise and equipment to capture your best angles and showcase your properties in the most appealing way. A skilled photographer will understand the importance of composition, lighting, and staging, ensuring that your realtor photo captures the essence of your brand and leaves a lasting impact on potential clients.
Next, pay attention to your surroundings and choose a location that reflects your expertise and target market. If you specialize in luxury properties, consider a sleek and modern setting that aligns with that niche. On the other hand, if you focus on suburban family homes, a friendly and inviting neighborhood backdrop could be more appropriate. The right location can help convey your area of expertise and make a memorable impression.
Furthermore, don't be afraid to showcase your personality and unique selling points in your realtor photo. Consider incorporating elements that make you stand out, such as a prop related to your hobbies or a background that reflects your interests. This personal touch can create a connection with potential clients and make your photo more memorable. Just ensure that any props or background elements do not overshadow your professional image and that they align with your brand identity.
When it comes to ordering real estate business cards, Realty Cards is a top-notch platform that caters specifically to the needs of realtors. With a user-friendly interface and a wide range of customizable options, they make the process seamless and efficient. Whether you're a seasoned real estate professional or just starting out, Realty-Cards offers a plethora of design templates and features to create business cards that truly represent your brand.
💡TIP 1: Dress to Impress: Choose attire that reflects your personal style while maintaining a polished and professional look. Opt for well-fitted clothing in solid colors or subtle patterns, avoiding busy patterns or excessive accessories that might distract from your face.
💡TIP 2: Location and Background: Select a location that aligns with your brand and conveys your expertise. Consider shooting your picture in front of a prominent local landmark or a property you've recently sold. Ensure the background is clean and uncluttered to keep the focus on you.
💡TIP 3: Lighting is Key: Natural lighting is your best friend when it comes to capturing a stunning realtor picture. Aim to shoot during the golden hour, either early in the morning or in the late afternoon when the sunlight is soft and flattering. If shooting indoors, position yourself near a window to make the most of natural light.
💡TIP 4: Pose Confidently: Good posture exudes confidence, so stand tall and maintain a relaxed yet professional pose. Avoid crossing your arms, as it can create a defensive or closed-off impression. Experiment with different angles and expressions to find your most flattering look.
💡TIP 5: Hire a Professional Photographer: While smartphones can capture impressive photos, investing in a professional photographer can make a world of difference. A skilled photographer will know how to enhance your best features, capture your personality, and create a polished image that sets you apart from the competition.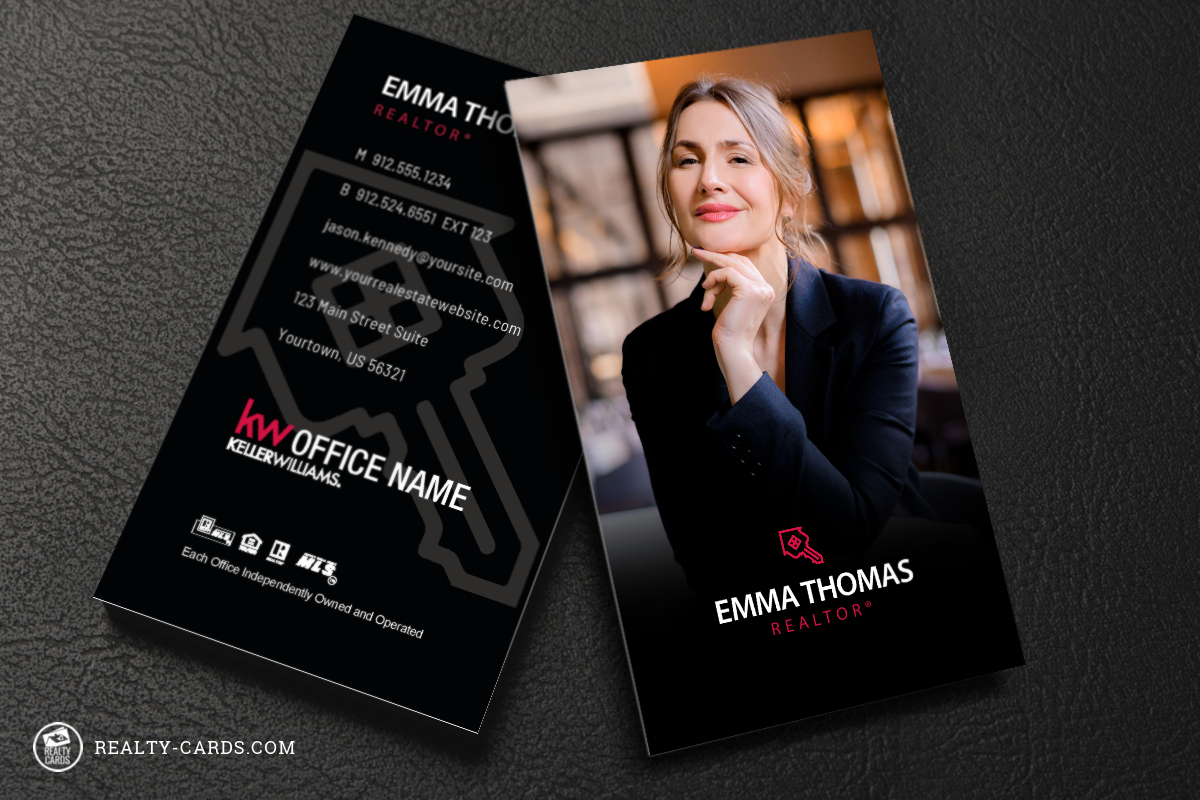 Do you like this design? Order it here: Business Card Design #474.    Want to see even more unique designs? View them here.
Before the photo shoot, ensure that your hair is well-groomed, and your makeup, if worn, is natural and enhances your features. Pay attention to small details like clean nails and minimal jewelry to maintain a polished appearance. Consider bringing props related to your profession, such as a clipboard or a branded sign, to add a touch of personality and reinforce your identity as a realtor. Enlist a Professional Photographer; While smartphones can capture impressive photos, hiring a professional photographer can take your realtor photo to the next level. A skilled photographer knows how to work with lighting, composition, and editing techniques to create a stunning image that reflects your unique qualities and professionalism. They can guide you through the process, help you relax in front of the camera, and bring out the best in you.
Remember, your realtor photo is an opportunity to make a lasting impression on you real estate marketing materials for potential clients. By following these tips and investing time and effort into capturing a great realtor photo, you'll convey professionalism, approachability, and charisma. Embrace your personal style, pay attention to details, and let your authentic self shine through. With a striking realtor photo, you'll set yourself apart and attract the attention of clients in the competitive real estate market.
Follow these tips to present yourself as a trustworthy, approachable, and confident professional, and watch your business flourish!
Realty Cards is the industry leader in designing and printing quality real estate marketing materials, and we would love the opportunity to work with you on providing quality promotional materials for your business!
If you need more information call us toll free at 1 (888) 711-4520 or click here to get started.